The Risk Register consists of a set of specific areas that can be combined to offer a one stop shop for managers to address the issue of monitoring and reviewing operational safety and quality on core tasks for the business, all this in real time. This simple tool enables users to have a listing all tasks and assets, identify the critical activities, risk assess (Offering an innovative approach to identify potential hazards, their consequences and impacts). Subsequently, the tool provides parameters to coordinate the execution and completion of effective plans and strategies to mitigate the issues (until the problems are eliminated), in which the appropriate employees will be involved for each intervention. Simultaneously, the software furnishes a monitoring the effectiveness of these possible countermeasures and safety barriers not just on paper but in action. Besides, the monitoring of performance evaluation. And thus, guarantee corporate compliance, as well as legal & other requirements.
The Risk Register is a tool capable of helping any organization interested in achieving of ISO 45001 certification, for a first certification or re-certification of ISO 9001, ISO 14001 or simply to have a better risk management and thus, keep intact corporate revenues (increasing productivity, product quality and reducing the high costs due to ill-health & injuries).

Benefits

To have an operations and assets register to perfect understanding of what is happening and how each activity is risky. To provide an overview of all the main risk associated to a company operations.

The ability to identify – assess and quick mitigation of different kind of risks that could affect the objectives of your organization.

Timely identification and mitigation of risks. Aligning risks with internal and external norms. Financial control.

Carry out continuous monitoring and reporting of risks within the organization, effectiveness of preventive actions and a performance evaluation. Control of Documented Information for a continual improvement process.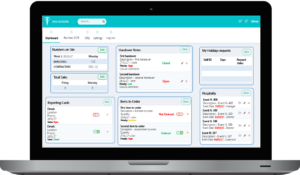 Operations and Assets Register
A repository and a screening tool for all safety critical tasks in the company and identify the hazardous scenarios related to those a risk register connected to safety critical items (the company's assets of to work as a repository of critical assets and the hazardous scenarios related to those).
The electronic checklist provides a better planning and coordination during the inspections scheduled, to guarantee internal and legal compliances, helping to reduce the excessive cognitive workload and to share the information in real time.
Designed to reduce failures of communication, offering a complete and accurate information helping to reduce anomalies and human related issues, increasing the staff Involvement, the Planning and Monitoring to carry out a quick intervention.
A reporting tool for monitoring incident, accidents and audit reporting and their impacts on companies KPIs.
The anomalies report is an easy and quick reporting system included into this module to improve the communication between different individuals.
The action plan can help to reduce or eliminate risks identified previously, find a solution for any anomaly, accident/incident reported, and to find solutions if something happens during the inspections.
KPI's - Daily Operational Review
Offers management an easy way to continuously monitor, ensuring that controls are effective and efficient, simultaneously, obtaining further information to improve risk assessment. This module also allows the option to analyse and learning lessons from events, changes, trends, successes, and failures.
The evaluation module offers management a way of investigating data and exporting to various formats to guarantee the Risk Management Policy. Performance evaluation and effectiveness.